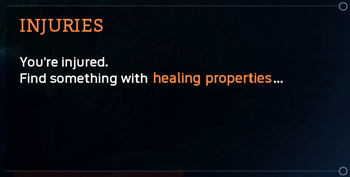 Injury is a negative status effect that temporarily reduces your overall mobility. You hominid will limp and/or hold a limb as if injured. The more severe the injury, the more reduced the movement ability.
Common causes are falling from trees and attacks from animals that charge at you causing blunt force trauma such as
Giant Warthogs.
Mechanics
[
]
Injury temporarily reduces your ability to move and perform actions. Injuries aren't fatal and will heal on their own over time but it is recommended to heal them with medicine.
Injuries will affect the Life Expectancy of a hominid over time. Although you can heal from injuries, those accumlated injuries are hard on a hominid and life expectancy will go down.
Important: Your clan members may also suffer from injuries without you noticing, so keep an eye out for visual signs of discomfort!
Learning specific neurons reduces the negative effects of injuries and increase the positive effects of medicines with respect to injuries.
Stage 1
[
]
Stage 1 is encountered from short falls and being hurt by smaller animals. You can still travel but your hominid will limp and it takes more effort to move or perform actions.
Stage 2
[
]
Stage 2 is encountered from higher falls and being hurt by larger animals. This stage can also appear if you are attacked by a small animal multiple times or you fall while already injured with Stage 1. Stage 2 makes travel and performing actions difficult. It is best to heal this condition before attempting any other actions.
Remedies
[
]
Medicines able to stop the injury condition:
If injury happens and there are no healing items in sight, the injury will slowly heal itself over time if you wait patiently. Be aware though that it is hard on your hominid to be injured and this reduces your life expectancy the longer you are injured.
Injury Protection
[
]
Medicines can also be used before being afflicted with negative status effects to give positive status effects or "protections". These protections allow you to endure situations that would normally cause you harm.
Be aware that protections run on a timer and will eventually run out. The protections will also reduce by the amount of damage they stop. Your hominid won't be harmed but the protections will go down instead. You will need to add more protections over time to ensure you aren't going to be harmed by afflictions.
Medicines that confer injury protection:
Neurons
[
]
The following neurons impact injuries.
Notes
[
]
Injured outsiders can be recruited by curing their injuries using medicine.
Effects
Negative

Bleeding

 • 

Cold

 • 

Food Poisoning

 • 

Heat

 • 

Hunger

 • 

Injury

 • 

Non-Omnivore

 • 

Sleepiness

 • 

Thirst

 • 

Venom Poisoning

Positive