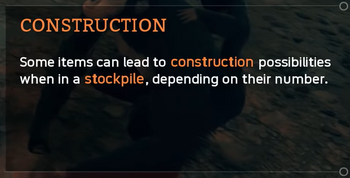 Construction is a process to transform a stockpile of items into another potentially more useful item.
Construction is also an item type related to the construction process. Each item once constructed is classified as a construction item.
Construction process
[
]
Each constructed item follows the same set of actions:
To start, you use the Add To Pile action to create a supply of the construction item.
Second, you use the Start Construction action once you have enough of the construction item in the stockpile.
Finally, you use the Build action repeatedly to construct the item.
Construction items
[
]
There are only a few constructed items that have specific uses:
The construction stockpile requirements can be reduced after learning specific neurons.
Deconstruction
[
]
The Branch Barrier and the Thornbush Wall can be removed after construction by using the Start Deconstruction and Deconstruct actions. If you use these actions, the materials used to make the construction will be lost.
Neurons
[
]
The following neurons impact construction.